The kennel must allow ample room for the pet to stand up without touching its head, as well as lie down, and turn around comfortably.
It should be sturdy and well ventilated on all four sides.
Two food and water bowls must be provided.
It must have a solid roof and a leak proof bottom.
World Wide Pet can supply USDA and IATA compliant flight kennels of various sizes to accommodate any type of pet.
Pet owners are encouraged to line the inside of the kennel with a towel, blanket, or old T-shirt so the pet has a familiar scent to comfort him/her!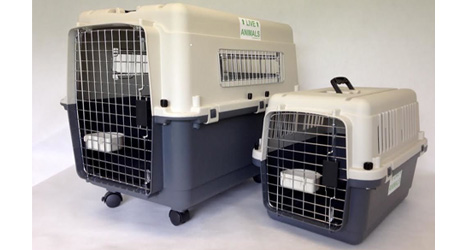 Kennel Sizes
#100 – 21L x 16W x 15H
#200 – 28L x 20.5W x 21.5H
#300 – 32L x 22W x 24H
#400 – 36L x 25W x 27H
#500 – 40L x 27W x 30H
#700 – 48L x 32W x 35H
Customs built kennels are also available for very large pets.